OVER DE B&B ITALIA STOEL
De B&B Italia stoelen zijn gemaakt van aluminium. Ondanks dat de stoelen grotendeels gemaakt zijn van aluminium, stralen ze wel allemaal een ander karakter uit. Gaat u voor de stoere Crinoline of houdt u toch meer van de stijlvolle Husk? De Husk is beschikbaar in de kleuren wit of zwart. Bekijk ons gehele assortiment om de andere producten te bekijken. Zo kunt u meteen zien in welke kleuren ze beschikbaar zijn. Door de verschillende opties in kleur kunt u uw eigen draai aan uw B&B Italia stoelen geven. Gaat u voor allemaal dezelfde kleur of houdt u het speels door er een mix van te maken? De keuze aan u!
Alle gewatteerde elementen in de stoelen hebben een waterdichte, polyester hoes en de outdoor stoffen zijn weersbestendig en behandeld tegen UV-stralen, chloor en zee spray. Hierdoor zullen de kussens en stoelen niet verkleuren. Daarnaast kunt u uw B&B Italia stoel gewoon buiten laten staan.
De collectie van B&B Italia stoelen bestaat uit:
Vele van de stoelen zijn deel van een bepaalde collectie. Zo kunt u uw stoel combineren met bijvoorbeeld een bijpassende sofa van dezelfde lijn. Het leuke hieraan is dat u dan een geheel krijgt, omdat alles in deze stijl is. Uw tuin wordt dan zeker een plaatje om te zien!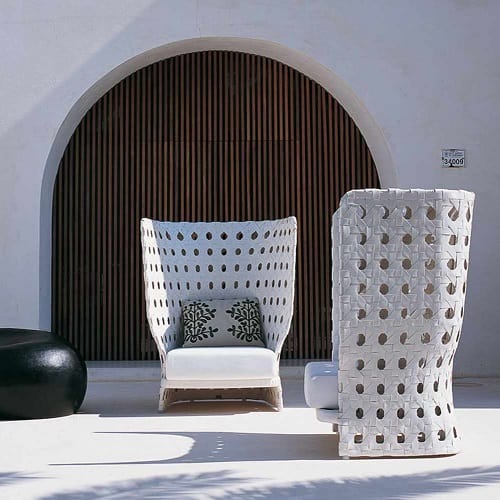 Hierboven ziet u een aantal van de B&B Italia stoelen die Dacks aanbiedt. Heeft u interesse en wilt u de volledige collectie zien? Bekijk dan ons gehele assortiment op de website!
DE B&B ITALIA STOEL COMBINEREN
Door uw product met verschillende andere producten te combineren, kunt u uw tuin helemaal naar wens maken. Of u nou liever een stoerdere tuin of een stijlvolle tuin wil? Bij Dacks vindt u het allemaal. Ons brede assortiment biedt voor ieder wat wil. Grote kans dat u zult slagen!
Bij een stoel hoort natuurlijk een tafel. Dacks heeft ook een ruim assortiment aan tafels. Niet alleen B&B Italia, maar ook andere merken zoals Fermob, Kettal of Tribu hebben een mooi assortiment tafels. Alle tafels zijn net zoals de stoelen voorzien van en poedercoating waardoor ze niet verkleuren en/of roesten. U kunt daardoor uw tuinmeubelen gewoon buiten laten staan na een avondje genieten van de zon!
Ook voor de B&B Italia bank en B&B Italia salontafel zit u bij Dacks goed. Liever iets anders? Bekijk dan ook onze Fast Forest stoel, Fermob tuintafel, luxe loungeset, design tuinstoelen of design tuinbank.
BEKIJK ONS LOOKBOOK
Voor een beter beeld van alle stoelen zou u een kijkje kunnen nemen in ons lookbook. Hierin vindt u verschillende afbeeldingen die door ons zijn samengesteld. Op deze manier is het voor u makkelijker om een beeld bij een bepaald product te krijgen. Wilt u toch nog liever de producten in het echt zien? Dan bent u van harte welkom in onze winkel. Hier staan onze medewerkers voor u klaar om u het beste advies te geven.