Na de lunch was het tijd voor een showcase van Monsieur Tricot. De Belgische ontwerper Ilia Eckardt is een ultieme brei-expert en maakte naam in de Belgische modewereld met experimentele breisels. De toepassing van zijn originele breitechnieken op verlichting resulteerde in de Monsieur Tricot collectie, die nu exclusief bij Tribù verkrijgbaar is.
De lampen zijn uniek, tijdloos én handgebreid. Ilja demonstreerde hoe de Monsieur Lebonnet om de bolvorm gehaakt wordt. Vervolgens liet hij zien hoe de Monsieur Cachet lamp volgens een ingenieus breipatroon op de breimachine wordt vervaardigd. De materialen zijn duurzaam, weerbestendig en het breiwerk is eenvoudig te verwijderen en reinigen. Bovendien geen gedoe met snoeren; de lampen zijn eenvoudig te schakelen en dimmen via een handige app op uw telefoon.
Monsieur Tricot is een echte sfeermaker voor tuin en terras. En kan uitgebreid gecombineerd worden: als een familie van verschillende modellen of als een uniek stuk. Verkrijgbaar als hanglamp en als vloer-/tafellamp in 5 kleuren.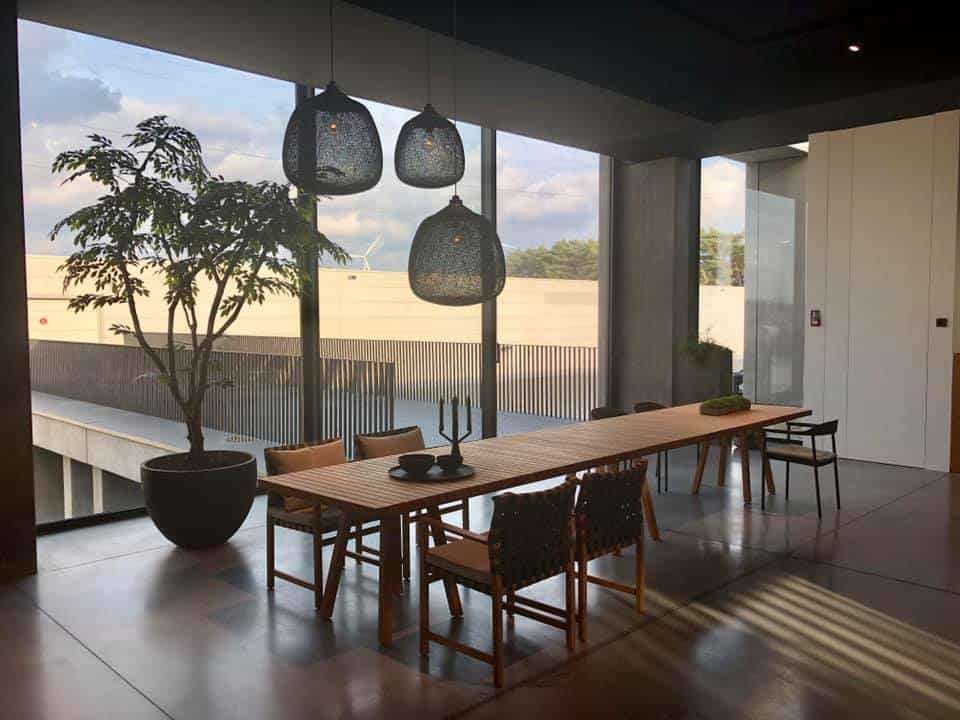 Vervolgens praatte architect Marc Merckx ons bij over nieuwe trends, kleuren en de laatste ontwikkelingen van materiaaltoepassingen voor de Tribù-collecties. Inspiratie uit de natuur zien we dit jaar terug in frisse groenen en zonovergoten terrakleuren, uiteraard in de subtiele harmonieuze Tribù kleurschakeringen. Alle 123 kleuren zijn bij ons in de showroom te bekijken.
Elegant en exclusief is de nieuwe Senja sofa van Studio Segers. Deze elegante modulaire sofa is uiteraard in onze showroom te bewonderen. U kunt de sofa geheel volgens uw eigen wensen samenstellen; met hoge of lage armleuningen, met twee zitdieptes voor meer comfort en elegante bijzettafeltjes.
We sloten de dag af met een workshop over productverbeteringen, montage en onderhoudsproducten om de hoogwaardige afwerking van de Triù outdoormeubelen garanderen. Daarmee is team Dacks is weer helemaal up-to-date; laat het voorjaar maar beginnen!