En toch heeft deze creatieveling in de afgelopen jaren laten zien een geweldig oog voor design & trends te hebben. Ruim voordat het 60'ies wandmeubel van Poul Codovius aan een tweede jeugd begon tekende Sebastian Herkner al voor Foundry Collection de EPOS. Inmiddels een klassieker op zichzelf. En hetzelfde gaat op voor de ODA collectie voor Pulpo welke ook navolging kreeg.
De ontwerpen van Sebastian Herkner zijn oogstrelend en hebben nét dat beetje tijdloos karakter waardoor deze moeiteloos nog jaren een lust voor het oog zijn. Ogenschijnlijk moeiteloos combineert deze designer kwaliteit, gebruiksgemak, comfort en design. Grote namen als EMU, ClassiCon, Gervasoni en Moroso zijn inmiddels ook fan van zijn talent.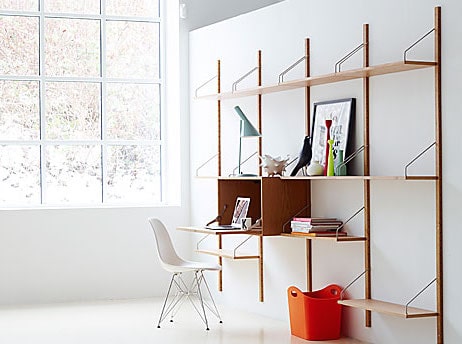 Ook bij Dedon hebben ze goed ingeschat wat Sebastian Herkner in zijn mars heeft. Met de opdracht van Dedon op zak verdween Herkner achter de tekentafel om vervolgens met de verrassende Mbrace op de proppen te komen. Mbrace zegt het eigenlijk al, het omarmen van degene die plaatsneemt in de stoel. Het cosy gevoel creëren, geborgenheid bieden, je nooit los willen rukken…
Wie wegkruipt in de Mbrace kan kiezen voor een uitvoering met lage of juist hoge rug. Voor ieder wat wils dus. Daarnaast is de Mbrace met hoge rug ook verkrijgbaar als rocking chair.
De Dedon Mbrace combineert op speelse wijze hoogwaardig teak met de gepatenteerde kunststof-vezel. Een kunststof-vezel waarmee Dedon de toon heeft gezet in buitenmeubelland. De zittingen zijn verkrijgbaar in 3 kleurvarianten, de stevige Spice (rood), allemansvriend Atlantic (blauw) en plezierige Pepper (taupe). Omzet platje compleet en geheel naar eigen smaak af te maken kan worden gekozen uit tientallen stoffen waarmee de zit- of zit/rugkussen worden bekleed. Voor ons totaal geen verrassing dat de Mbrace de Iconic Awards 2016 in de wacht heeft gesleept.
Dit tijdloze, in combinatie met de kwaliteit waar Dedon voor staat, maakt dat wij de Mbrace als topper omarmen!